Louisville Football is 3 days out from the early signing day. The Cards are set to sign 22 recruits in the 2021 class, a class full of talent offensively and defensively. CSZ is going to be bringing you position breakdowns each day leading up to signing day.
Today, we bring you the Offensive Linemen that are a part of FlyVille21.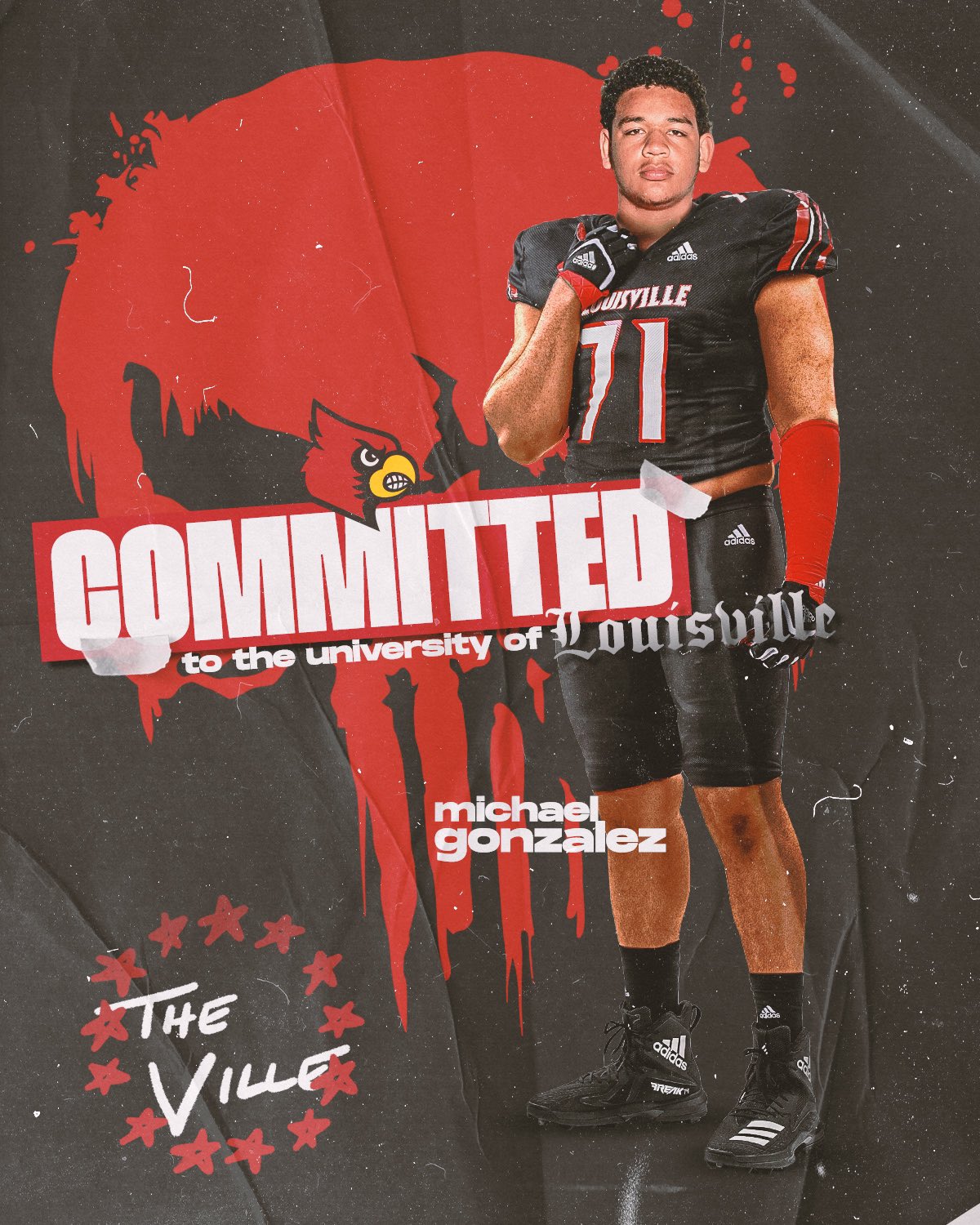 Rating: 3 Star 
Position: OG
Height: 6'4
Weight: 280lbs
High School: Sun Valley High School
Hometown: Monroe, NC
National Rank: #719 Player in '21 Class
Position Rank: #37 OG in Country
Considered: Florida, Ohio State, North Carolina, UK, Maryland
Twitter: @mgonzalez_71
CSZ Breakdown: Michael Gonzalez is a 6'4 280lbs bull dozer. As with all our OL recruits recently, Gonzalez is explosive off the snap which helps him get the upper hand on his blocking assignment. He has good pop when he extends his arms and hands into defenders. He finishes his blocks with a tenacity that Louisville fans will appreciate. Gonzalez is a good pass blocker, but a GREAT run blocker. His strength is excellent and his agility and footwork are good. He's used as a puller quite a bit while playing OT for his high school. Gonzalez is very good at maintaining leverage in his blocks which is so important.
Louisville Comparison: Michael Gonzalez reminds us a lot of former Cardinal Eric Wood with his ability to get off the line very quickly and also use his strength to push defenders off the line. Michael is a very skilled, but can improve to be an all-around blocker in all aspects of the game. Michael will be a fan favorite before too long.  
Rating: 3 Star
Position: OG
Height: 6'3
Weight: 309lbs 
High School: Union Area
Hometown: New Castle, PA
National Rank: 782nd (247sports Composite)
Position Rank: 39th
Considered: UK, Michigan State, West Virginia, and Western Michigan 
Twitter: @Aarongunn13
Commitment Story: Louisville Football Lands First Commitment For 2021 In Aaron Gunn
CSZ Breakdown: Gunn is able to get out of his stance quickly and move just as quickly. When his 300lbs is moving at full speed out in front of a RB clearing the way, defenders should expect they will end up on their backside because in his highlights they often do. This young man is a road paver. I expect guys like Hall, Mitchell, Robbins, and Cooley will enjoy running behind him because it will likely almost always mean a good gain of yards.
Louisville Comparison: Aaron Gunn will be someone we can run behind. So my comparison for Aaron Gunn is Mekhi Becton. I understand it takes a lot to be like Mekhi, but this guy is the REAL DEAL. Aaron can run block like no ones business. He will be a force on Louisville offensive line for years to come. Coach Dewayne Ledford has shown his ability to coach up guys into terrific lineman and Aaron will definitely benefit from his coaching.